Metal Roofing Contractors melbourne
Colorbond Roofing Installation
Are you wanting metal roofing that suits your structural requirements and budget? At Total Roofing and Cladding we can deliver. We are a top quality metal roofing company that specialize in metal roofing, roof plumbing and cladding
Total Roofing and Cladding are the expert installers for all metal roofs, including the great range of Colorbond roofing products, including Metallic, Stainless, Ultra, and Matt. Whether you live near the beach and need the toughest materials, or you're choosing a color with energy efficiency in mind, Total Roofing and Cladding are the expert installers for all metal roofs, including the great range Colorbond roofing products, including Metallic, Stainless, Ultra, and Matt.
We also provide and install Zincalume, Polycarbonate, and Fibreglass. If you don't do your homework and make your decision on the lowest price, the person you choose to replace your roof could have long-term ramifications.
Make sure it's done correctly the first time so you can relax knowing you and your family are protected when the Melbourne rains come pouring down. When the heavens decide to open up, Melbourne's brutal weather will no longer give you the creeps.
Colorbond Roofing Upgrades
We provide a variety of high-quality flat metal roofing solutions that are tailored to your project's needs, budget, and structural requirements. Flat metal roofing has long been popular, but older roofs were prone to rusting and leakage. Flat metal roofs are far more durable today, and they can be erected at angles as low as 1 degree.
Consider metal or colorbond if you're in the market for a new roof. A colorbond roof not only looks wonderful, but it may also significantly boost the value of your property. They're built to resist Australia's tough climate and can easily last more than 20 years. We can quickly replace your old roof with colorbond if you need a repair for a broken roof.
METAL ROOFING IS ECONOMICAL
Metal roofing, which was originally only used on barns and sheds, has become more popular in recent years. Roofing contractors, homeowners, and business owners searching for a low-maintenance, long-lasting solution have taken notice of the updated designs and exceptional durability. These advantages may raise costs as compared to standard asphalt shingles, but how much does a metal roof cost in the real world?
When comparing metal roofing to traditional roofing, customers may experience sticker shock, but the benefits greatly outweigh the expenses.
Metal roofing is an investment, but the long-term durability and protection offset the higher upfront expenditures. Metal roofing is more durable and low-maintenance than traditional roofing, lasting two to three times longer and requiring fewer repairs. It can also help you save money on electricity and is better for the environment than asphalt shingles. However, many things must be examined in order to determine the exact cost of metal roofing, including the materials utilized and the style chosen. Labor expenditures account for a significant amount of the total cost, and are influenced by the roof's materials, size, style, and pitch. Metal roofing is well worth the investment, with so many advantages and styles to suit any design.
THE BENEFITS OF A METAL ROOF
Metal roofing has numerous advantages for both homeowners and business owners. Most importantly, it is substantially stronger and more long-lasting than asphalt. Metal roofing is fire and wind resistant, and it lasts longer than standard roofs. Metal roofing can endure up to 50 years or more than asphalt shingles, which can last anywhere from 15 to 30 years. They also require little upkeep and can be cleaned with a simple power washer.
Metal roofing is also an effective insulator due to the reflecting qualities of "cool technology" paint schemes. It reflects more UV rays, allowing buildings and homes to stay cooler even in the heat. During the summer, a metal roof may even help you save money on your energy expenses. Furthermore, the materials are frequently constructed of recycled resources and are 100% recyclable. Metal roofing, thus, is advantageous not only to the home or company owner, but also to the environment.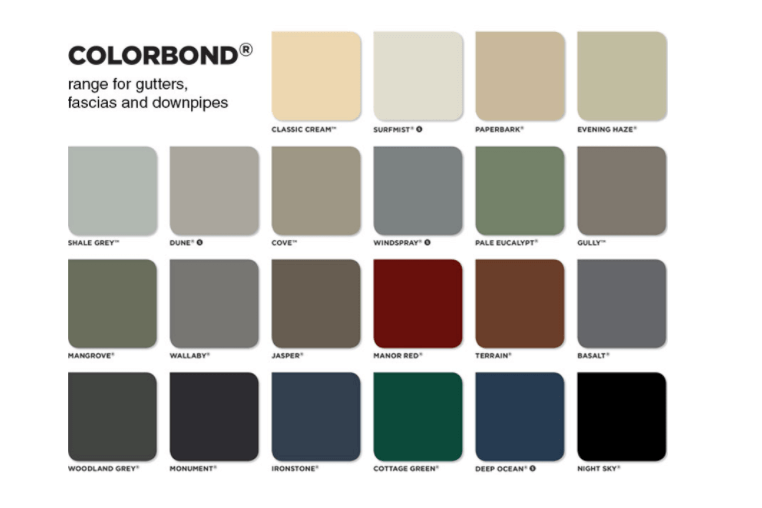 Colorbond and Zincalume are two of our favourite metal roof alloys. Colorbond is a pre-treated corrosion-resistant steel alloy that comes in 22 distinct colors and may be mixed and matched for fascia, down pipes, and gutters. All of the colors are thermally efficient, meaning they reflect and dissipate heat well.
Zincalume is a composite material made up of steel, zinc, and aluminum that has been treated with a scratch-resistant coating throughout the manufacturing process. All Zincalume products have a maximum 36-year warranty, with various warranties offered specific waterfront situations, according to the Australian manufacturer of both alloys.
It can be difficult to choose the correct color for your home and metal roof, which is why Colorbond offers five different color groups: Contemporary, Matt finish, Classic, Ultra, and, of course, Fencing colors.