Roof Replacement melbourne
Colorbond Roof Replacement
There are numerous advantages to using Colorbond to replace a roof. Roof straightening, truss or rafter fastening, a new metal frame, thick high R value insulation, and 3rd Generation Bluescope Colorbond Steel are all included in our Colorbond Roof Replacements. Total Roofing and Cladding makes the procedure easy and stress-free for our customers.
It's a major decision for any homeowner to replace a roof with Colorbond because of the cost. You'll want to be sure the contractor is an expert in their field. It's also a plus if they're a nice group of guys who are prepared to go above and beyond not only in terms of their work quality, but also in terms of cleaning up after themselves and offering a positive experience. That is exactly what Total Roofing and Cladding does. After we're done, you won't have to worry about your roof for the rest of your life. This is our promise: every time you return home, you will enjoy our craftsmanship and remember the pleasant experience you had with us.
A Solid Roof Replacement Process
Roof replacements are a large project for us, but not for everyone. At Total, we specialise in roof replacement, so we have the process down to a predictable procedure, which makes our quality predictable, we can rely on our team to produce the same top quality outcomes every time.  All of the effort goes into the frame and preparation; replacing Colorbond sheets is simple. If we're replacing an existing corrugated roof, we'll want to make sure the batten spacing is correct and the roof is properly secured; just because it hasn't blown off before doesn't mean it won't in the future. It's simple to tie down a roof: 1mm hoop iron over the trusses/rafters at the external wall top plates and 40mm tech screws at the ridge/hip rafters; simple, but not everyone does it. The only opportunity to address evident symptoms of a wave in the roof, signalling that the structure has moved over time, is when the roof is stripped and before the new roof is put. We simply lay a string line across the surface and pack out the rafters with structural timber when a roof has that wave effect; it's simple, but not every builder is ready to do it.
Roof Replacement Products
When comparing quotes, it's also vital to evaluate what materials are being utilized and where they're coming from. How do you know it's a low quality foreign steel, non-Colorbond products, and little or no insulation? In our quotes, we describe the products we use in depth and explore their origins with you. I've spent years ensuring that the items we use are the best . There are a few things we use at Total Roofing and Cladding that we require you to agree to. Colorbond items and only Colorbond materials are used, as well as a minimum 60mm insulation layer beneath the roof sheets. We can tailor the type of roofing materials to fit your preferences, or you can allow our professionals to choose a design that best complements the look of your property. We can also assist you in selecting a color palette.
Using quality materials helps the life time of your roof and also our reputation, this is why we use the best products we can get our hands on. Our roof replacement materials are tried and tested for the Melbourne climate, 4 seasons in one day, 1 roof to deal with it.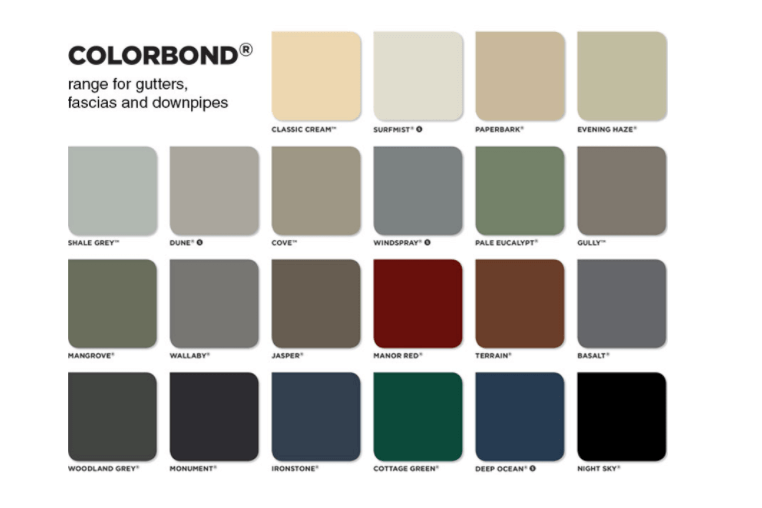 Colorbond and Zincalume are two of our favourite metal roof alloys. Colorbond is a pre-treated corrosion-resistant steel alloy that comes in 22 distinct colors and may be mixed and matched for fascia, down pipes, and gutters. All of the colors are thermally efficient, meaning they reflect and dissipate heat well.
Zincalume is a composite material made up of steel, zinc, and aluminum that has been treated with a scratch-resistant coating throughout the manufacturing process. All Zincalume products have a maximum 36-year warranty, with various warranties offered specific waterfront situations, according to the Australian manufacturer of both alloys.
It can be difficult to choose the correct color for your home and metal roof, which is why Colorbond offers five different color groups: Contemporary, Matt finish, Classic, Ultra, and, of course, Fencing colors.